Note: This blog was accurate at the date it was published. To view the most up to date information and details of current policies, visit our policies page.
There are several reasons you may be required to isolate to slow the transmission of COVID-19. Here's how and when to self-isolate when it comes to coronavirus in the Cayman Islands:
What's The Difference Between Isolation And Quarantine At Home?
Isolation is when you isolate yourself in the comfort of your own home or the place you are staying. If you self-isolate, you have been in the Cayman Islands for more than 14 days and are not a returning traveller.
Quarantine at Residence is a new programme being trialed by the government which allows travellers to quarantine in a residence that has been approved by public Health, as an alternative to quarantining in a government run facility.
If you have received approval to quarantine at residence, you must stay indoors and remain in isolation with your household for as long as you are advised, avoiding all physical contact with other people.
Groceries, medications and other essential supplies should be ordered from suppliers who accept online or phone payments and offer delivery service.
Friends and relatives are not allowed to visit or enter your home or yard during your quarantine, even if they have offered to drop off essential supplies. This is to keep them safe.
When advised by Public Health, all members of the household will be tested for COVID-19 and a negative test result is required in order for quarantine to cease.
You can learn more about quarantining after arriving from overseas on our travel pages.
What Is Isolation?
Isolation is when you isolate yourself in the comfort of your own home or the place you are staying.
If you are isolating, you need to stay indoors and avoid contact with other people for a set period of time. The Department of Public Health will advise when it is safe for you to be released.
It is important to follow the advice for the whole period, even if you do not have any symptoms.
Why Should I Isolate?
Staying at home if you suspect you have COVID-19 helps to protect your friends, colleagues and the wider community (especially vulnerable people). It will also help to control the spread of the virus responsible for COVID-19.
We realise that staying at home may be difficult or frustrating, but there are things that you can do to help make it easier. These include:
plan ahead and think about what you will need to be able to stay at home for up to 10-15 days
talk to your employer, friends and family to ask for their help to access the things you will need
think about and plan how you can get access to food and other supplies such as medications that you will need during this period
ask friends or family to drop off anything you need or order supplies online if possible, and make sure any deliveries are left outside your home for you to collect
make sure that you keep in touch with friends and family over the phone or through social media
think about things you can do during your time at home; people who have successfully completed a period of staying at home have kept themselves busy with activities such as cooking, reading, online learning and watching films
when you are feeling better, remember that physical exercise can be good for your wellbeing; look for online classes or courses to help you take light exercise in your home
When Should I Isolate?
You are required to isolate if
you are experiencing symptoms that include:

coughing
shortness of breath
fever

you have been advised to do so by the Public Health Department
If you test positive on a Lateral Flow Test, you must isolate immediately and follow Public Health advice for reporting the positive result. This means using this form to report your positive test.
Public Health will advise when it is safe for you to be released from isolation.
Unvaccinated travellers, vaccinated travellers with unvaccinated minors, and non-securely verifiable fully vaccinated travellers travelling from a country with a vaccination rate lower than 60% for the first dose according to the World Health Organization (W.H.O), will complete a mandatory quarantine period and will submit a Travel Request and require approval from Travel Cayman before entry. Learn more here
If your symptoms worsen during home isolation or are no better after 14 days, contact your regular GP or the 24-hour Flu Hotline on 1-800-534-8600 or 947-3077 (Digicel), or email flu@hsa.ky.
For a medical emergency dial 911 and inform the operator that you may have COVID-19 or are being tested for the virus.
How Should I Isolate If
I am Positive, And Live With People Who Are Unvaccinated?
If there are members of your household are not vaccinated, and they are 18 years of age or older, they are required to isolate for 14 days.
You must tell Public Health about this and Public Health will advise the date of the PCR test they must take. Public Health will also confirm final approval for release.
Unvaccinated children under 18 years old residing in the household can continue to go to school if daily LFT result is negative. Daily testing must continue until all positive cases in the household are cleared by PH.
Follow-up testing, using a PCR test may be conducted by the Public Health Department, but a positive or equivocal lateral flow test should be treated as indicating someone has a SARS-CoV-2 infection.
How Should i isolate If
i am
Positive, And Live With Others Who Are Vaccinated?
Report your positive test here:
If the other members of your household are vaccinated, each person, including children, should conduct daily Lateral FlowTesting for ten days. Daily testing must continue until all positive cases in the household are cleared by PH.

If an individual receives a negative LFT result, that individual can attend school/work if daily test results continue to be negative.

If an individual receives a positive LFT result, that individual must:
stay at home and

contact Public Health immediately.



If an individual is unable to test, they are required to isolate for 10 days
How Do I Isolate?
Here's the recommended process for isolating in order to prevent the transmission of coronavirus if you are in the Cayman Islands.
1. Stay at home
You should remain in your home. Do not go to work, school, or public areas, and do not use public transport or taxis. You cannot go for a walk.
2. Separate Yourself
Minimise the time you spend in shared spaces such as bathrooms, kitchens and sitting rooms as much as possible and keep shared spaces well ventilated.
Aim to keep three feet away from people you live with and sleep in a different bed where possible. If you can, use a separate bathroom from the rest of the household. Make sure you use separate towels from other people in your house, both for drying yourself after bathing or showering and for hand-hygiene purposes. Ask your family or the people you live with to remember to use their own towels.
3. Separate Facilities
If you do share the toilet and bathroom with others, it is important that you clean them after you have used them every time (for example, wiping surfaces you have come into contact with). Another tip is to consider drawing up a rota for bathing, with you using the facilities last, before thoroughly cleaning the bath, sink and toilet yourself.
If you share a kitchen with others, avoid using it while others are present. Take your meals back to your room to eat. If you have one, use a dishwasher to clean and dry your used crockery and cutlery. If this is not possible, wash them using your usual washing up liquid and warm water and dry them thoroughly, remembering to use a separate tea towel.
We understand that it will be difficult for some people to separate themselves from others at home. You should do your very best to follow this guidance and everyone in your household should regularly wash their hands, avoid touching their face and clean frequently touched surfaces.
a. If you live alone with children
Keep following this advice to the best of your ability, however we are aware that not all these measures will be possible.
What we have seen so far is that children with COVID-19 appear to be less severely affected. It is nevertheless important to do your best to follow this guidance.
If a child develops symptoms, they need to stay at home for 14 days from the onset of their symptoms.
b. If you live with an older, vulnerable or pregnant person
If you provide care to an elderly, vulnerable or pregnant person, follow this advice to the best of your ability.
c. If you are breastfeeding while infected
There is currently no clinical evidence to suggest that the virus can be transmitted through breast milk. Infection can be spread to the baby in the same way as to anyone in close contact with you. The benefits of breastfeeding outweigh any potential risks of transmission of the virus through breast milk or by being in close contact with your child, however, this will be an individual decision and can be discussed with your general practitioner.
If you wish to breastfeed, take precautions to limit the potential spread of COVID-19 to the baby by:
washing your hands before touching the baby, breast pump or bottles

avoiding coughing or sneezing on the baby while feeding at the breast

cleaning any breast pump as recommended by the manufacturer after each use

considering asking someone who is well to feed your expressed breast milk to the baby
If you are feeding with formula or expressed milk, sterilise the equipment carefully before each use. You should not share bottles or a breast pump with someone else. You can find more information at the Royal College of Obstetricians and Gynaecologists website.
4. Arrange Deliveries
You will need to ask friends or relatives if you require help with buying groceries, other shopping or picking up medication. You can also order your shopping online as some supermarkets offer delivery services. Make sure you tell delivery drivers to leave items outside for collection if you order online. The delivery driver should not come into your home.
5. No Visitors
During your self-isolation, the household can have no visitors. There must be no movement inside or outside.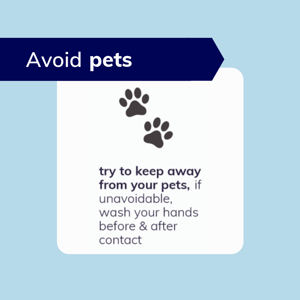 6. Avoid pets
There is no evidence that pets can be infected with coronavirus. However, it is good practice to wash your hands after contact.
When Do I Take The COVID-19 Test?
When you take a COVID-19 test depends on your circumstances so it is important to follow advice. Public Health will tell you when to take your test.
How Do I Take A Lateral Flow Test?
Lateral flow tests or antigen rapid tests allow you to test for COVID-19 at home. Here are the steps for using a test at home.
How Do I get Help?
There is a support line available for people in isolation, which can be reached by calling 946-3530. The Isolation Support Line is also available toll free by calling 1-800-534-3530, and by email to isolationsupport@gov.ky.
The Isolation Support Line's operational hours are from 9a.m. to 4 p.m. from Monday to Friday, and from 9a.m. to 1p.m. on Saturday. Calls on Saturday and Sunday will be forwarded to the Hazard Management Cayman Islands (HMCI) Duty Officer.
Where Can I Learn More?
Visit our frequently asked questions for more information.
For the latest and most up to date advice visit our policies page.