A number of proactive measures have been taken in the Cayman Islands to slow the spread of coronavirus disease that causes the virus know as COVID-19. Alongside these announcements comes the closure of all education facilities as of Monday 16 March through to the end of the 2019/2020 academic school year.
While these measures may seem extreme, they are proactive precautions being taken by the Government to halt any potential spread COVID-19 in the light of one confirmed case in the Cayman Islands.
Here's how closing schools, and taking measures such as banning larger public gatherings, are intended to slow the spread of virus and flatten the curve:
What Kind Of School Closures Are We Doing?
There are two types of school closures when we consider coronavirus:
Proactive

—

these closures happen before schools have even one case of infection.
Reactive

—

closing of schools happens in the event of infection within a school.
In the Cayman Islands were carrying out proactive school closures. We had no confirmed COVID-19 cases in the schools as of 13 March.
What We Know About Closing Schools & Its Impact On The Virus
Proactive school closures can be one of the most powerful non-pharmaceutical interventions (methods of treating this without drugs). They don't just keep children safe, but the closures can protect the whole community.
When you close the schools, you reduce the mixing of the adults and children — parents dropping off at the school, the teachers being present too. It is the intention that this reduced mixing can slow the spread of a virus, and protect our most vulnerable population — especially the elderly or those with chronic illnesses.
Despite appearing to be affected less by coronavirus, children can still carry the virus. By closing schools we can reduce the spread of the virus substantially.
In our case, some evidence suggests this can lower the impact of a potential epidemic by up to two thirds. It also ensures that our healthcare system can easily treat and manage any potential cases.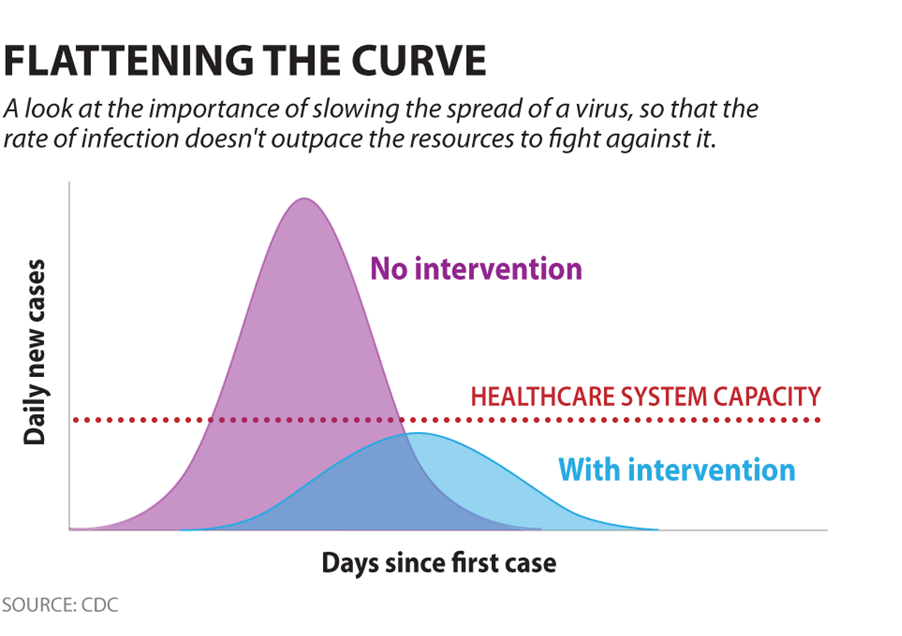 Why Public Gathering Bans Work Against Coronavirus Too
Much like the proactive closing of schools, in an effort to show an abundance of caution, the Cayman Islands Government has implemented a ban on gatherings of more than two (2) people who are not members of the same household. Hospitals, supermarkets and pharmacies are exempt from this ban.
The intention is similar to closing schools. When less people meet and mix, the impact and spread of any potential epidemic (and virus) is lowered dramatically.
What Other Precautionary Measures Are Being Taken?
The Cayman Islands Government has also taken the following precautions as of 13 March:
For 60 days from Monday 16 March, all cruise ships are being denied entry to the Cayman Islands.
In order to protect its patients, Health Services Authority is restricting all visitors except for parents accompanying children and those accompanying women in labour
For the next three weeks as of Sunday 22 March 11:59pm, Owen Roberts International Airport and Charles Kirkconnell International Airport are closed.

Cargo flights, as well as courier flights, will continue as will emergency medical air; ambulance flights needed to take residents overseas for medical treatment.

From Sunday 22 March 11:59 pm the following places are closed:

All gyms and indoor leisure facilities

All bars

Spas, including mobile spas

Public swimming pools, private strata pools

Cinemas, theatres, and concert halls

Playgrounds

Tourist attractions

Museums and galleries

All categories of beauty salon,

All barbershops and tattoo parlours

From Friday, 3 April, the Commissioner of Police announced the extension of the "hard" curfew to 5:01am on Friday, 17 April and confirmed it would run from 7pm to 5am nightly and all day on Sunday, i.e. for 34 hours from 7pm on Saturday evenings through 5am on Monday mornings. The Commissioner also announced the period this curfew would be in place had been extended to 5:01am on Friday, 17 April.
For ongoing updates to these policies restrictions visit our policies page.
The Impact Of These Announcements
We understand these measures in the Cayman Islands will have a huge impact on our society.
We do not expect or intend for this to be implemented forever, so we ask that for the duration of these restrictions we all work together to support our community.
While social distancing is encouraged, this does not mean you cannot support a local business by asking for delivery instead of takeaway. If you are self-isolating, the Public Health Department can support you with your needs.
We continue to consider the impact COVID-19 will have on the local economy and will update the public with further announcements and support as we make these available.
What Else Can I do?
Frequently wash your hands. Soap and water are effective against coronavirus. If you do not have soap or water, an alcohol-based hand gel can help keep your hands clean. Make sure you clean your hands regularly

—

when entering new spaces and touching new things, even when just going home. When washing your hands, do so for at least 20 seconds.
Practice social distancing:

Keeping the kids at home is hard, and will present some challenges for many families. It might seem tempting to use this as a chance to catch up with friends or arrange play dates. If you can, it is best to avoid this. Social distancing is hard, but incredibly effective at slowing the spread of viruses. While it seems like children may not be as affected by coronavirus as adults, they do have the ability to carry the virus from one household to another. In general, try to stand 3-6 feet away from colleagues and other people. Do not shake hands or hug people -- instead try waving or nodding to avoid touching.

If you think you might have coronavirus. Call the 'flu hotline on 1 800 534 8600 or 947 3077 or email flu@hsa.ky.

Do not go to the hospital or

doctor

—

you may infect others and we need to protect the community. Do not use public transport or taxis. Do not go to the supermarket or to public spaces. Instead, Public Health will advise you to return to your home and self-isolate. This means staying in the comfort of your own home for 14 days and not interacting with people. If you live with people, they will need to isolate with you. If you need food and do not have any friends, family who do not live with you or Public Health can bring you supplies.
I have more questions
Visit our frequently asked questions page for more answers or email NEOC@gov.ky