Children thrive when they are safe and protected, when family and community connections are stable and nurturing, and when their basic needs are met. ~ World Economic Forum
Without question, the disruption children in our community are facing is challenging, for them and for us as parents, teachers and caregivers. When children can't go to school, play with their friends, or engage in many of the other social activities that used to fill their days they can become sad, frustrated or exhibit other behaviour that is atypical for them. Balancing the physical wellbeing with the mental wellbeing of children and their families is a key concern for policy makers world wide.
While policies are currently in place to help the physical wellbeing of children and their families, here are some additional tools and resources that you can use to help maintain the mental health of the children in your life.

Expecting "Normal" in times of Change
Your children have had a big change to their daily routines. Going to school, playing with friends, participating in clubs and activities, and having their nannies and helpers around for additional support have all been removed from their lives. Adjusting to life without the different activities and social interactions can be difficult. This is not a 'normal' time for them and you may notice that they have some behaviour changes that aren't 'normal' either.
Behavioural Changes
In times of stress and change, your children may have strong reactions such as:
feeling sad
being irritable
withdrawing
getting confused easily
having sleep disorders
showing new or increased fears
showing anger more frequently
physical reactions, like a mild headache that won't go away
behavioural regressions
Dealing with these in a safe and supportive way can be an extra challenge for caregivers who are feeling tired and stressed themselves. The best way you can set a good example for and take care of your children is to take care of yourself.
Stay Positive
Your Children are Paying Attention
Children follow your lead and live by your example. Taking care of yourself by eating well, exercising and following a routine will encourage them to do the same. Talking to them about the changes happening in their lives and their feelings about them can also help them deal with their own concerns in a healthy way.
Even if you're struggling to cope with the challenges of having your children home 24/7, try not to vent those frustrations where they can hear you. They may not be able to differentiate your frustrations with the situation in general from your disappointment with them as individuals.
Keep a Routine
Most children thrive when they know what to expect and when to expect it. Making a routine and sticking to it can help to reduce the stress that children could be experiencing. Support them in their remote learning by setting certain 'study times' and keep control of screen time by having a dedicated time for TV or table games and videos.
Create a Safe Environment
Kids Helpline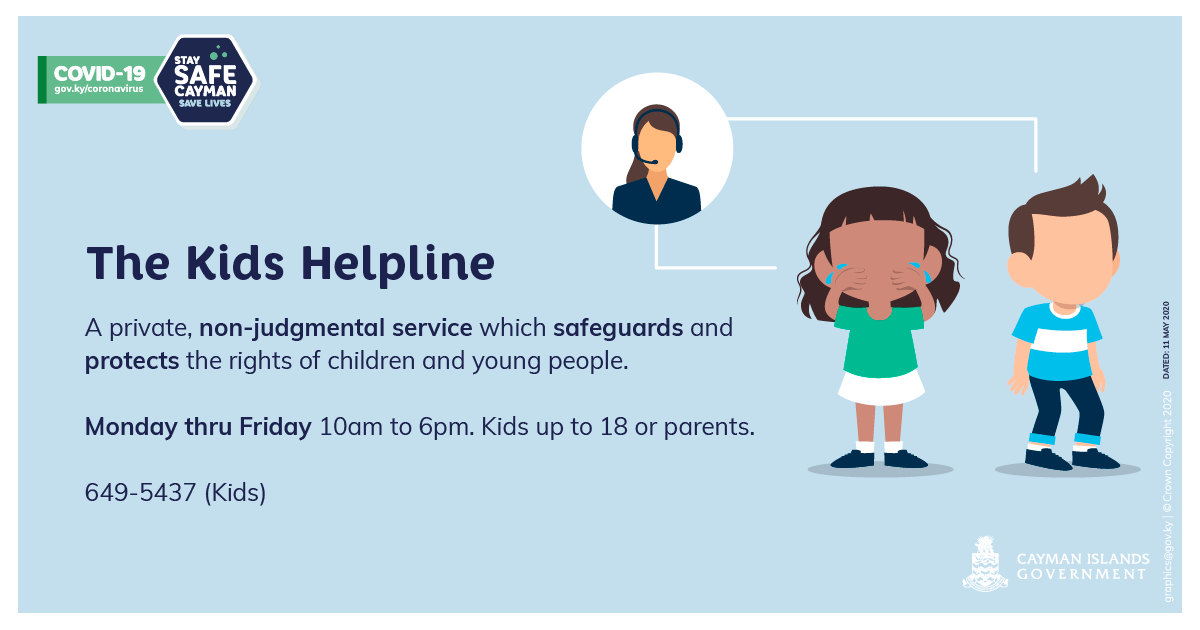 The Kids Helpline is a free to call number for anyone across all 3 Islands under the age of 18. This is a private, non-judgemental service which will safeguard and protect the rights of children and young people. They can call for any reason such as: bullying, relationships, family problems, suicidal thoughts, loneliness or anything else that is concerning them. Parents who are concerned about their children are also welcome to call.
Kids Helpline: 649-5437 (KIDS) Monday thru Friday from 10am-6pm
If the dangers of home are a concern, seek help.
For critical services, including child protection and domestic abuse, by the Multi-Agency Safeguarding Hub (M.A.S.H), call

1-800-534-2273

or

945-0545

or email

MASH@gov.ky

.
Teaching Social Distancing & Personal Hygiene
When you're battling an invisible enemy that could be lurking anywhere it can be hard to feel safe. Teaching your kids about social distancing, wearing a mask and personal hygiene can help them understand how to prevent the spread of the virus to themselves and to others.
My Hero is You
"My Hero is You" is a story developed for and by children around the world and offers a way for children and parents to think together about the questions the pandemic raises.
Keep Your Children Engaged
Just like adults, children who are bored or unengaged will have more time to worry or ruminate. Keeping them engaged in healthy activities helps them feel safe and secure with you and can be an educational experience.
Bake some cookies, cake or other fun treat together
Play board games as a family
Have a dance party (let your kids pick the playlist!)
Have an outdoor scavenger hunt
Go for a bike ride or beach walk and take note of any animals that you see, then do some research together and learn more about those animals when you get home
Teenage Life
Your teenager might have lived in their room and spent a lot of time on social media prior to the pandemic but that doesn't mean that they're not affected. Friends and social circles are critical in the life of a teenager and for those who are missing out on graduations, homecomings, and summer internships, they may feel like their entire life plans are being pulled out from underneath them.
Teenagers may also not fully understand the importance of social distancing or the risks that they pose to others if they contract or spread COVID-19. They may think that they're untouchable and won't contract COVID, or that they're invincible and brush off the potential seriousness, and may not think about the wider reach of their potential to spread COVID-19 to others who may be more vulnerable than they are.
Tips to help teenagers cope:
Maintain a regular routine with consistent sleep, activity and study patterns.
Stay connected with others and incorporate them in your routines and family calls.
Connect with humour and jokes.
Create a safe environment for them to talk about their feelings and worries.
Eat regular meals and regular meal times, together if possible, and try to limit all-day grazing and snacking.
Limit coffee and energy drinks.
Get out and exercise as a family with a walk on the beach, bike ride or other other activity that keeps you moving and gets you out of the house.
Limit screen time and social media. This is a harder one to enforce, but it's important to 'take a break' from being connected 24/7.
Give them time and give them space. There are times when they really will just need to be alone.
Further reading: How Teenagers Can Protect their Mental Health
Helping Children Grieve
Around the world, children are learning to deal with the loss of loved ones as the global death toll from COVID-19 continues to increase. In Cayman, we have been fortunate that our community has not had to deal with the mass deaths that so many other nations have. That does not mean that we are not affected by them. Our community is comprised of people with families in hundreds of other counties and it is likely that our friends and neighbours, and even our own families, have connections with those abroad who are coping with COVID-19 and it's devastation. If your children have experienced the loss of a loved one giving them the tools to deal with grief can help them manage and deal with their emotions in a healthy way.
Additional Resources for Parents: