Please note: the document below was accurate as of April, 2 2020. Regulations have since changed. Read the most up-to-date regulations here.
On Thursday, 21 January 2021 the Prevention, Control and Suppression of COVID-19, 2021 came into effect.
As of Tuesday, 25 August 2020, social distancing is not legally required in public spaces in the Cayman Islands. Persons may or may not choose to practice social distancing.
It is recommended to maintain distancing where possible, especially in public places, if you are in a vulnerable group or visiting with the elderly and vulnerable. It is always recommended to maintain distancing from strangers, the elderly, and the vulnerable.
The term 'social distancing' has been mentioned a lot when it comes to reducing the spread of the coronavirus disease known as COVID-19.
So, what does 'social distancing' mean and how can we do this in the Cayman Islands?
Information relating to what is and is not allowed under public health Regulations is subject to change. For the latest and most accurate information, please visit our policies page.
What Is Social Distancing?
Social distancing is the act of physically distancing people from one another in order to reduce the spread of COVID-19.
The Ministry of Health recommends the following:
Avoid contact with someone who is displaying symptoms of COVID-19 or the flu. These symptoms include fever, cough or shortness of breath.
Work from home where possible. Your employer should support you to do this. Please refer to employer guidance for more information.
Where possible, limit interactions as infections spread easily in closed spaces where people gather together. Up until at least 5 July 2020, all strata and public gyms remain closed by law
Avoid gatherings of more than 500 people indoors (and 1,000 outdoors) and always maintain at least three feet of distance from persons who are not members of your household. Keep in touch using remote technology such as phone, internet, and social media to help reduce interactions.
Use telephone or online services to contact your General Practitioner or other essential services.
The public gatherings ban on more than 1,000 people in the Cayman Islands is an example of a measure to encourage this behaviour. The intention is to slow down or even stop the spread of the disease and allow the health care system to more readily care for patients over time.
Other examples of social distancing measures are:
Working from home instead of at the workplace
Speaking to loved ones by electronic means (phone, internet, social media) instead of in person
Cancelling or postponing conferences and large meetings
Why is Social Distancing so critical?
Reduces the risk of transmission from persons who may be infected with the novel coronavirus that causes COVID-19 (whether they are symptomatic or asymptomatic)
Reduces the number of people who would have to be quarantined should anyone subsequently test positive for the COVID-19 virus
How Can I Practice Social Distancing?
The simplest way to practice social distancing is to stay three feet away from people where possible. If possible, avoid any unnecessary visits to potentially crowded public spaces.
The ban on large public gatherings and the closure of schools is intended to help increase social distancing. In order to aid with this distancing you can:
Ensure helpers or cleaners follow the necessary protocols - note, this could mean them living with your family or avoiding your house altogether for the next few weeks
Avoid large gatherings
Find other ways to meet, for example, attending online church services and meeting friends or family virtually
How Can I Get My Kids & Family To Practice Social Distancing?
It can be hard to explain to families - especially the young - why they need to distance themselves from families or friends.
The best way to explain this is by telling them that we are distancing ourselves from people to potentially save many lives in our community.
By making sure you are six feet or two metres away from your friends or family you can help protect another person who might not know they have an underlying health condition, which ultimately puts them at high risk.
Flattening The Curve
We have seen across the world that large numbers of people becoming very sick rapidly can overwhelm healthcare systems.
In the Cayman Islands we want to avoid this.
The graph below shows how intervention can delay the peak of confirmed cases and avoid putting strain on the healthcare system (blue curve) compared to when no intervention is taken (purple curve).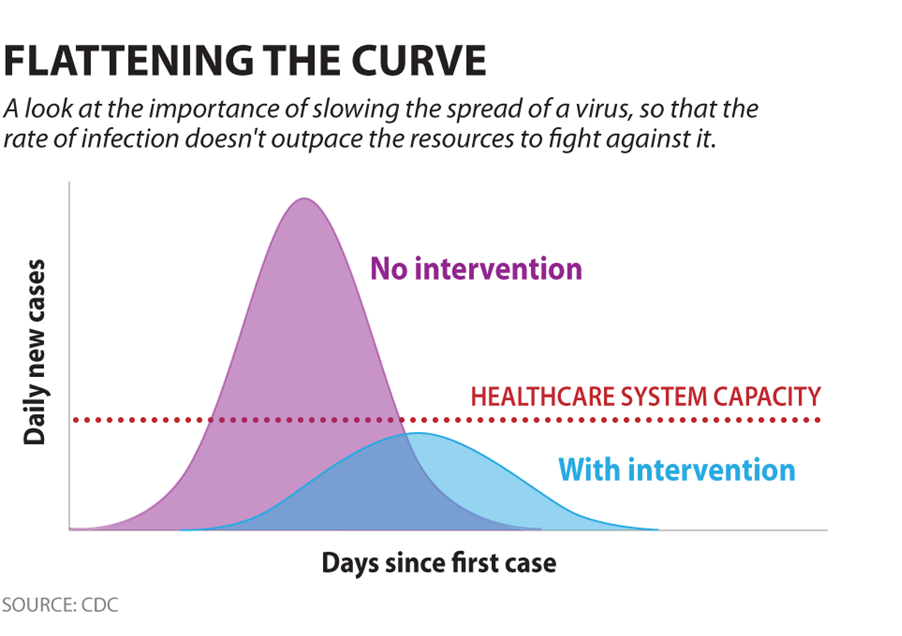 In this situation, fewer people get sick every day. There is a better chance for hospitals, the healthcare system, and other infrastructures to keep up with adequate supplies and care.
In this way, by slowing the spread we make sure that everyone who needs help can get the care if they become severely ill.
Can I Still Go To The Beach?
Yes. In Grand Cayman, Caman Brac and Little Cayman, you may go to the beach on any day of the week.
Avoid gathering in groups of more than 1,000 people outdoors in the Cayman Islands.
Is Exercising Outside Still Allowed?
Yes.
As of 21 June in Grand Cayman and Cayman Brac there are no limits on when you can go outside to exercise. You may exercise at any time on any day.
While social distancing does mean avoiding groups or clusters of people together, such as happy hours or brunches, we need to make sure that as a community we are looking after ourselves.
Many restaurants and establishments are offering delivery services to allow for you to get the food you need during this time, and outdoor dining is also allowed under certain conditions.
Looking after your mental wellbeing
Understandably, you may find that social distancing can be boring or frustrating. You may find your mood and feelings are affected and you may feel low, worried or have problems sleeping and you might miss being outside with lots of other people.
At times like these, it can be easy to fall into unhealthy patterns of behaviour which in turn can make you feel worse. There are simple things you can do that may help, to stay mentally and physically active during this time such as:
look for ideas of exercises you can do at home from the internet
spend time doing things you enjoy at home – this might include reading, cooking, other indoor hobbies or listening to the radio or watching TV programmes
try to eat healthy, well-balanced meals, drink enough water and try to avoid smoking, alcohol and drugs
keep your windows open to let in fresh air, get some natural sunlight if you can, or go outside into the garden or private balcony
Where Can I Lean More?
Visit our frequently asked questions for more information.